A combination of local authority and national body grants have combined to give Binfield FC a six figure fund towards ground improvements at their Hill Farm Lane Ground.
Binfield Parish Council, Bracknell Forest Borough Council, the Premier League & The FA Facilities Fund and the Football Stadia Improvement Fund have all contributed to a total £315,000 that will go towards improvements including disability access, new changing rooms, a physio room and clubhouse refurbishment.
The ground at Hill Farm Lane has seen a sharp increase in facilities in recent years which began with the erection of floodlights during the 2007/08 season and has since seen an extensive increase in car parking facilities and the extension of the clubhouse and bar area.
The full grant breakdown:
Binfield Parish Council £17,000
Bracknell Forest Borough Council £45,000
Premier League & The FA Facilities Fund £185,627
Football Stadia Improvement Fund £68,374
What it means
Andy Cotton, Binfield FC Club Vice-Chairman said: "This project will transform the facilities here at Binfield Football Club, enabling us to better serve our playing & social members, supporters and visitors in the future.
"Binfield FC is a true 'not for profit' community football club whose core ambition is to provide first class football facilities for all – this exciting project will enable us to continue building a better football club which the community can be proud of.
"Thanks must go to the Premier League & The FA Facilities Fund and the Football Stadia Improvement Fund for their investment."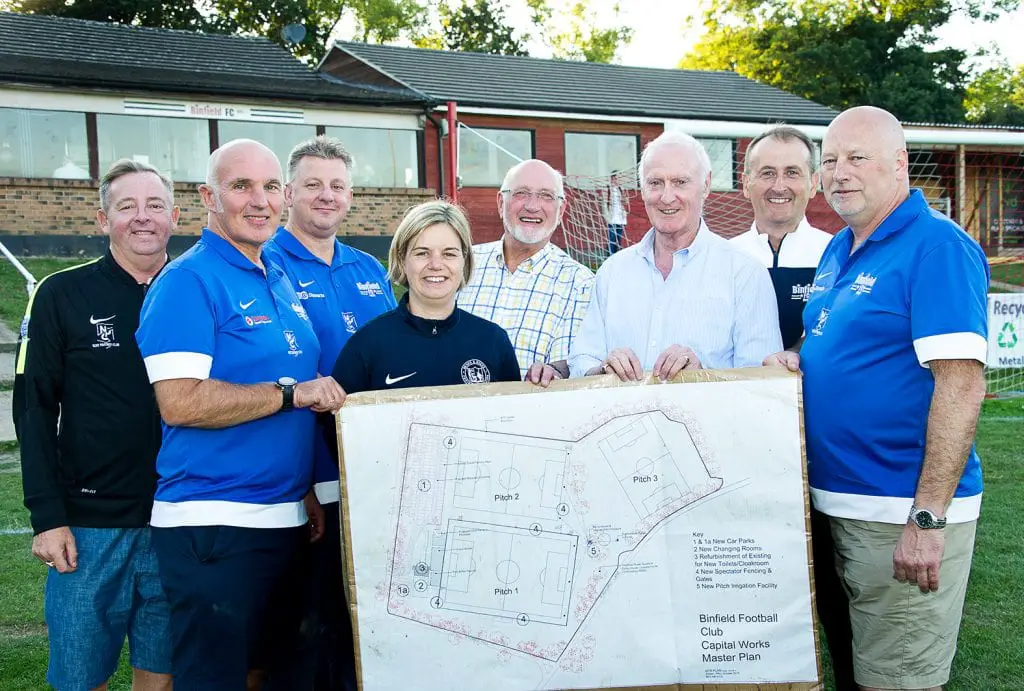 Binfield chairman Bob Bacon (second from the left in the image above) said: "The club is excited to be continuing the journey to build a club worthy of all its members and to have a facility that serves the local community.
"Many volunteers have enabled us to get where we are and with the influx of new housing in the area, we want to provide a safe and sociable place for players of all ages and abilities to play the wonderful game of football."
Timeline
The plan for the refurbishment and new facilities at the ground is expected to get underway before the end of 2016.
Our view
Quite simply the football facilities within the wider Bracknell Forest area will be second to none with the development announcement here at Hill Farm Lane and that happening a little further down the B3018 in Bracknell itself while Wokingham & Emmbrook also have development plans of their own at Lowther Road after being granted planning permission.
There will be two great footballing facilities within a short distance (3.8 miles by road) of each other which will only benefit the local communities.
Binfield's facility as it stands has already come on leaps and bounds since their original tussle just to install floodlights which finally happened back in 07/08.
The Moles are now a well established club at the top of step 5 football and the ground is already a wonderful place to watch senior football as we experienced again recently in the sunshine this season.
The club house is better than many at a higher level and Binfield have been one of the best supported clubs in the Division for many a season which is remarkable considering the not insignificant towns of Ascot, Bracknell, Wokingham and Reading that surround it.