The wait was finally over for the fourth time this season as the Royals were back in action against Chelsea Ladies at the slightly underwhelming Staines Town FC.
Top flight football and Staines don't really go hand in hand, but to their credit they gave out free Carabao to fans tonight, given that both Chelsea and Reading are sponsored by the 'giants' of the energy drink world. If that world only consisted of Thailand and was limited to only products that are represented by animal skulls.
It was a cold, foggy night but fortunately Reading turned out in high visibility clothing. Not to be outdone the Chelsea subs turned up in not one high visibility colour but two! If they just had 'UK Cleaning' printed on the back the Chelsea subs could have doubled as stewards at the Mad Stad. In fact, given the colour and size of Fran Kirby's match coat you could be forgiven for thinking that she had mugged a bin man on the way to the game. Anyway, I digress…
'Keith was banned from taking his drum into the ground'
In recognition of the fact that we have a minute's silence before every match at the Mad Stad these days, Chelsea tried to go one better by having a 90 minute silence within the ground tonight. Keith was banned from taking his drum into the ground, no doubt much to the relief of those supporters wearing 'Bright' Chelsea shirts. Brian managed to smuggle in a vuvuzela, but wasn't allowed to blow it and was left walking with a limp given the lengths he had to go to in order to smuggle it through security.
Contrary to my pre-match predictions, Royal Chaplain Angy King didn't actually play up front – instead Melissa Fletcher took the spot up top.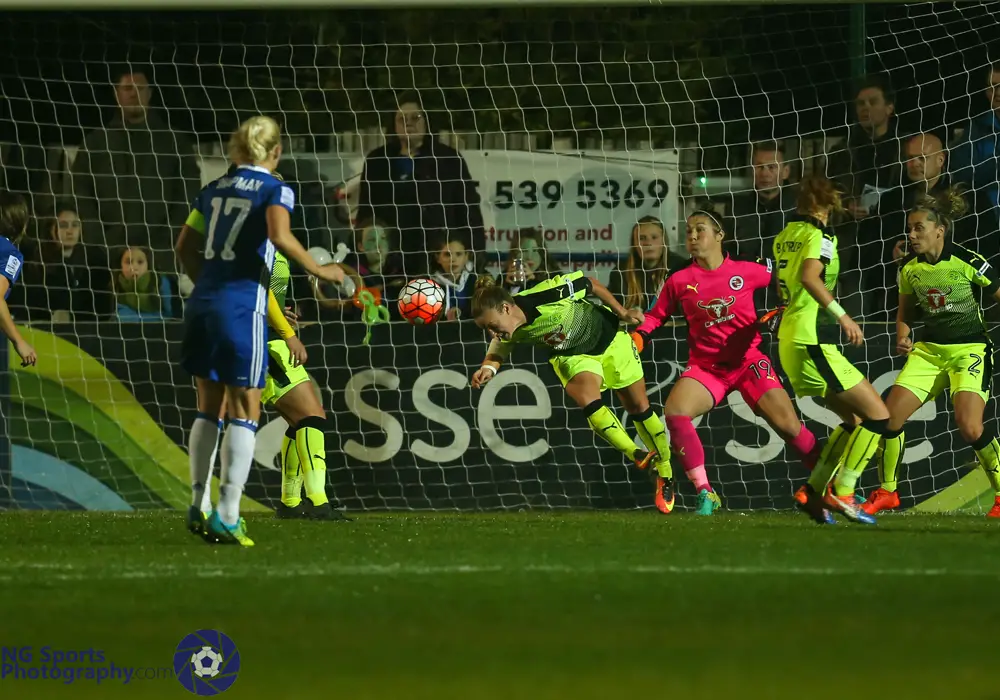 It's been an challenging season in terms of that lone striker role as we don't have anyone that leaps out as being a 100% natural fit for that role. Jade Boho-Sayo banged in the goals for Bristol at the end of last season, but never really looked like a lone striker for us. Nia Jones has played there and has the strength and energy, but isn't yet quite a natural goalscorer. Melissa Fletcher has been used there a fair bit but I prefer seeing her on the wing due to her crossing, cutting in and dribbling abilities. Helen Ward hasn't been tried there from what I can remember, but seemed to be used on the wings in the games that she did play so I assume isn't seen as a good fit there either.
To be a lone striker is bloody difficult as you need to have pace, strength, aerial ability, a decent strike, bags of energy, a killer first touch and positional awareness. We've got cracking forwards to play in a front two, but none that feel like a natural fit for a lone striker, in my very humble opinion. Either way, Melissa was up front and did well.
Amber Stobbs started the match on the right wing and did everything she could to stake her claim for a more regular role in the team. Grace Moloney and Charlie Estcourt both returned to the bench after their successful loan spells and Nia, Lois and Laura-May were there in a cheering on capacity, with Nia also live tweeting!
The first half was pretty competitive. The first big chance came for Emma Follis who outpaced her marker and bore down on goal from the left, only to see her curling shot beaten away by Lindahl in the Chelsea goal. Emma has scored a few from identical positions but it wasn't meant to be tonight unfortunately.
There were limited clear cut chances during the first 45 minutes – Ji headed directly at Mary Earps on one occasion and Kirsty made a few last ditch, perfectly-timed sliding tackles but Reading kept themselves well in it and saw a couple of decent shots blocked or fly just wide.
All of our good work was undone though when the marking went a little awry for Chelsea's opening goal. Millie Bright rose highest from a corner and headed on to Eni Aluko who found herself on her lonesome in the six yard box. Balls.
Aside from the goal the most memorable first half moment was Kirsty's rocket from outside the box that nearly caused the ball to burst into flames, such was the pace on the shot. Aside from that we did drift a bit into the interval and Carney had a really good chance from a header. But we knew there was all to play for in the second half – if we could just avoid conceding within ten minutes of the restart!
'Instead of Chelsea extending their lead it was Reading who reduced the deficit again'
We almost did it too, but unfortunately on 55 minutes Carney played a ball through to Borges who finished at the second attempt after some good work from Earps. Game over we assumed, and yes it technically was, but Reading didn't give up and were rewarded for their hard work on 65 minutes when Lauren Bruton was tripped just inside the box. She dusted herself down and calmly slotted home the resulting penalty to bring the deficit back to one.
Eni Aluko wasn't done for the evening though and she was again in the right place at the right time (on her own and 5 metres away from goal!!) to get on the end of a driven Ji cross. Chelsea were playing some quality football at that stage and some of their short sharp passing and movement was actually quite nice to watch.
The goalscoring for the night wasn't quite complete but instead of Chelsea extending their lead it was Reading who reduced the deficit again, when Remi Allen pulled a ball back to Melissa Fletcher who cooly slotted home from the edge of the area. It was a really classy finish into the bottom right corner and Melissa deserved it for the work she put in to make the lone striker role work.
And that was that. Reading by no means outclassed but not quite able to do enough in the final third to earn the victory and with a couple of momentary positional lapses at the back.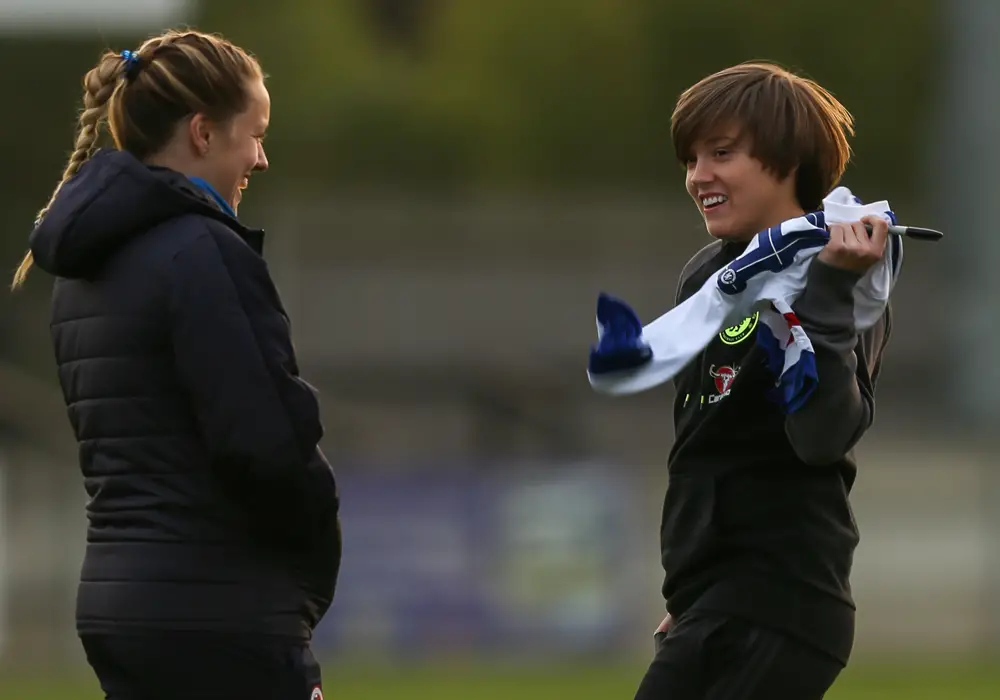 Jade Boho-Sayo came over to bid us farewell at the end of the game after a season that never quite took off for her. We wish her well for her future back in Spain. She, along with the other attacking options on the bench were all unused tonight – it would have been nice to see some of them in action to help with our comeback, but hopefully we'll see Helen and Charlie next week in our final match against Donny.
All in all, a good performance and good to see some goals, but the highlight of the night was Nia's live tweeting efforts which were top drawer! Awesome to see some humour and personality on display! The other mildly humorous part of the night was the referee needing to sub himself off after pulling something in his leg in the closing stages. The way he was limping around would have suggested sniper fire was the cause of his injury and the background shouts of 'ouch' from the crowd each time he moved possibly hastened his departure!
For the players that made it onto the coach journey home they should take a lot of pride from tonight's performance and will hopefully get a second win of the season next Sunday at home to relegated Donny. I'm sure there'll be a few changes in personnel over the closed season so hopefully those whose futures lie elsewhere can go out with a bang and a very fond farewell.