Pics of the Week return, the post where we're looking for the quirky images, inter-village banter and things that make non-league what it is, whether that's grounds, kits or as per last week – a lovely tea bar!
In this weeks selected pictures we feature Hungerford Town's Cabin, Reading Royals Futsal Women in an arty shot, a mighty fine goalkeeper shirt and as you can see from the lead image – some top village banter.
Siri, explain non-league to me
Hungerford Town vs Bromley in the FA Cup: Sometimes we just want to have a nose around the ground and Hungerford's tea bar caught our eye, not least because it's really quite slanted! But anywhere selling good local beer is fine by us as well of course. Thanks to Jeff Youd for this snap.
Hanworth Villa's goalkeeper shirt worth the entry fee alone
Wokingham & Emmbrook vs Hanworth Villa: Sometimes you can be scrolling through snaps and something catches your eye, you glance back and it's not what you thought (this is an actual science your writer did at University but for the life of him, he can't remember what it was called). Then sometimes you look back and yes, it was an incredible looking goalkeeper shirt worn by Hanworth Villa's goalkeeper Terry Buss in the 0-0 draw with Wokingham & Emmbrook. Photo by Andrew Batt.
We asked Hanworth about the kit and they said: "We got it from a company called ev2sportswear.com. It's basically the Nigeria world Cup shirt but in blue."
All smiles for the Windsor FC
There were smiles all round for Windsor fans on Saturday, they beat Ascot United 3-1 at home ending a run of five games without a win. This guy was very happy. Photo by @FieldMatters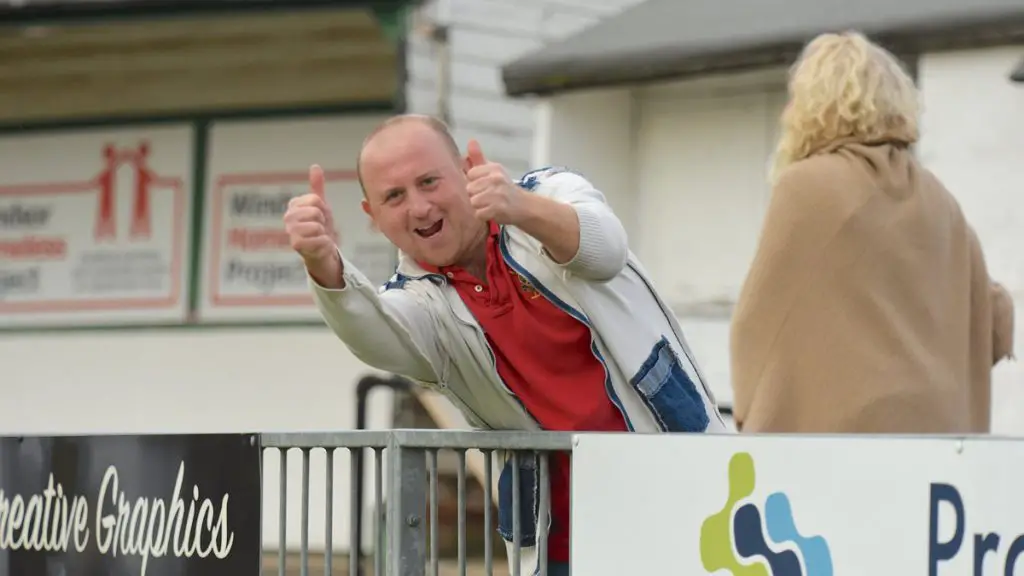 Futsal in black and white
Possibly our favourite of the week, aside obviously from village banter. Obviously.
Sheena Booker is the regular snapper at Reading Royals Women Futsal games and captured some amazing black and white images this week and was proud of this one picking out captain Sarah Thompson, picking out a couple of bits of detail.
For reference, the lead image on this piece 'found its way too us'