It may be true that football is played within seasons and not calendar years, however at FootballinBracknell we couldn't resist finding out which Hellenic Premier clubs had the best league record during 2017.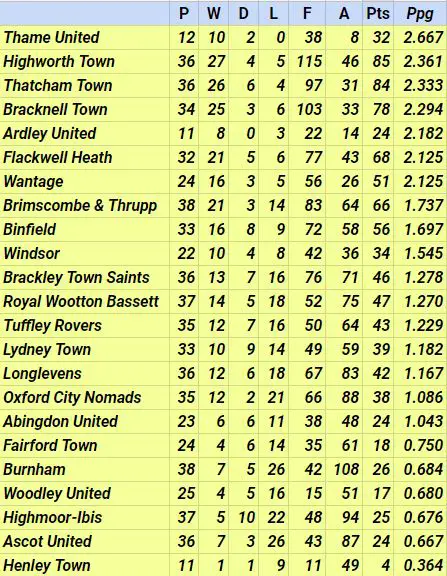 It's unsurprising to see Thame United at the top of the charts. Their magnificent end to the 2016/2017 season saw them pip Bracknell Town to the title and promotion into the Southern League. They only played twelve games, but they won ten of them and only conceded eight goals in the process.
Bracknell Town have had an excellent 2017, winning three cups and only losing six league games over the calendar year. Two of their Hellenic Premier Division rivals Highworth and Thatcham are very close when it comes to points per game over the same period. Bracknell Town and current Hellenic Premier Division leaders Highworth Town are the only two clubs who scored more than 100 league goals in that period.
Binfield finish the year with a very good record having won 16, drawn 8 and lost only 9 matches. They've also ended the year with a positive goal difference. Ascot United are the club locally who will be glad to see the back of 2017. Only the now defunct Henley Town ended the year with a worse Hellenic Premier Division record than them.
Ultimately the above table is meaningless. The only one that Highworth, Thactcham and Bracknell want to be the top of is the one that's published in the summer of 2018.