Ascot United blasted Frimley Green 6-0  as manager Jamie Tompkins' celebrated his 100th game in charge as well as his engagement to girlfriend Emma at the weekend.
The margin of victory did not reflect the balance of play but the Yellamen's finishing was right out of the top drawer in this Cherry Red Records Combined Counties League game on Tuesday.
Aaron Berry struck the first two goals and was soon celebrating again, but Ascot officials behind the goal insisted the striker had forced Frimley's Jamie Connor into putting the ball into his own net.
James Richardson added his name to the scoresheet with a magnificent effort from the edge of the area before substitute Ian Davies bagged a brilliant brace in the closing stages.
Ascot are going goal crazy, as they were following up their 5-2 win over Colliers Wood on Saturday despite having Calum Ferguson red-carded after just 14 minutes, and have netted a total of 18 goals in three games, their other fixture having ended in a 1-0 defeat at Camberley last week.
The Krooner Park men must have defended superbly as Ascot are a side full of pace with good attacking ideas and take a lot of stopping.
Frimley, rather feisty at times, tried hard to disrupt their flow, conceding quite a large number of free-kicks in the process.
Green got in the first decent effort at goal, forcing keeper Sam Gray into making what turned out to be his best save of the whole evening, and soon afterwards Ascot skipper Louis Bouvers sent a close-range header thundering onto the crossbar following Jonny Denton's corner.
Their opening goal was a gift with Green defender Tom Cooper needlessly giving away a penalty as he was slow in clearing and got caught out as Richardson closed him down, and Berry made no mistake from the spot in the 22nd minute.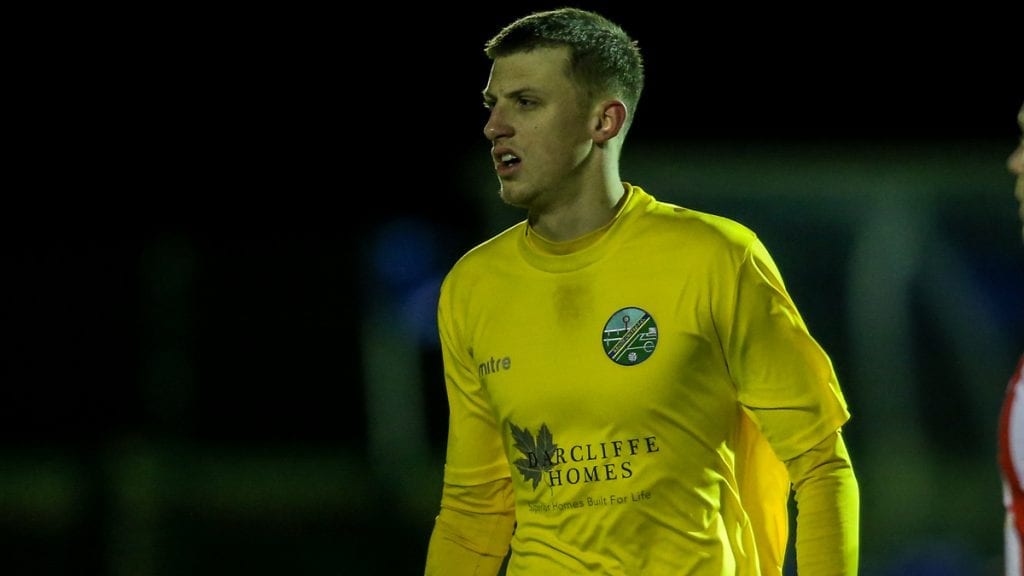 Soon afterwards, Berry found himself in space but was denied by keeper Stuart Norman, leaving it 1-0 at half-time.
Aiden Higgs, who had scored a hat-trick on Saturday, was replaced by Ian Davies and the substitute went on to play a major role in his side's super second-half show.
It only took Davies five minutes to make his presence felt, his right-wing cross just eluded Norman and Berry raced in at the far post to turn the ball into the net from close range.
Although Frimley right-back Owen Cranmer-Flynn hit a 35-yarder just inches past the Ascot post, United were now taking a firm grip on the game and it came to no surprise when they extended their lead with a little more than an hour gone.
Berry raced away with his arms raced to give the impression he had completed his hat-trick, but Ascot credited it an own goal by Connor – a decision which Tompkins later considered "as a bit harsh on Aaron".
The last 15 minutes of the match produced strikes which would be worthy candidates for any goal-of-the-month competition, not only for Ascot but for the whole of the Combined Counties League.
James Richardson blasted an outstanding shot from outside the area which flew into the net via the underside of the crossbar.
Soon afterwards, Davies was just as far out with a superbly-placed lob over Norman for the fifth goal and in stoppage time he scored with an even more delightful effort to leave the scoreline at a stunning 6-0.
Whilst delighted with his side's clinical finishing, Tompkins was quick to praise his defenders, saying: "I was really impressed with them, as they worked hard to keep a clean sheet which was more important.
"We defended really well as a group and that's what we have been working hard on in recent weeks. It allows us to counter (attack) and score a lot of goals, as we have seen again tonight. There were some fantastic goals. Ian (Davies) hit one with his left foot from outside the box, I have never seen him score from so far out.
"Jamie Richardson, I was really pleased for him and he deserved his goal.
"There were also some team goals which was great."
This coming Saturday, the Yellamen face Southall at Ashford Town FC's ground.