Did you see the 'Goal of the Bank Holiday Weekend'?  It wasn't scored by one of the Manchester City Galácticos.  Neither did it come from the boot of Lionel Messi in La Liga.  No, in fact the most eye-catching strike of the last few days was all the work of a Berkshire-born chap, scored in the modest setting of Maidenhead United's York Road.
Fifteen minutes was all it took on Bank Holiday Monday for Sam Barratt to intelligently size-up the howling gale blowing in Maidenhead's favour from west to east.  Top-scorer Danilo Orsi initially held the ball up for Barratt, well inside the Maidenhead half. Sam took two touches on his left peg to step past an opposing Wrexham player and seemed set for a familiar lung-busting run into opposition territory.  Not this time.  Looking up, Barratt struck the ball cleanly and with power with that wand of a left foot, the ball caught the wind and sailed gloriously over the head of experienced Rob Lainton in the Wrexham goal who was left helpless.
The inspiration for the goal?  A simple car-pool chat between colleagues on the way to the ground.  With Barratt giving fellow Berkshire-based prospect Reece Smith a lift to the game, Sam explained after the game that as the pair drove to York Road "I told him I'll score a 70 yard lob today!"  With no spectators in the ground to celebrate with, Barratt turned and ran the short distance to the Maidenhead bench to embrace the teenager Smith.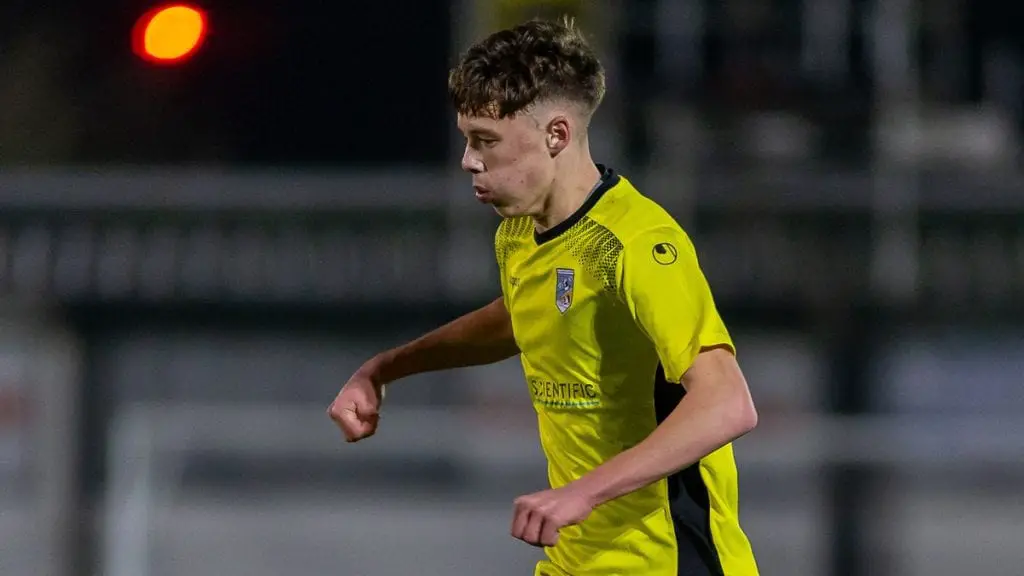 Local football followers will be unsurprised to hear that this wasn't the first time that Barratt has pulled off such a neat trick.  Back in 2014, the then 18 year-old Barratt was playing Hellenic League football for Bracknell Town and a typically virtuoso performance against Highworth included a similar effort from long range.
Reporting on the Bracknell Town website back in April 2014, the much-missed Darrell Freeland described the second of Barratt's brace in a 2-0 Larges Lane victory as "a worldy".  'Duds' went on: "In the 65th minute – in a goal reminiscent of Wayne Rooney's recent wonder strike – Barratt received the ball millimetres inside the Highworth half and stuck out on the right touchline.  He noticed (Highworth 'keeper) Sharkey off his line and sent a high lob over the despairing goalkeeper who frantically retreated but could not get near the shot". 
Monday's 'Hollywood' goal – which would have impressed Wrexham's celebrity owners Ryan Reynolds and Rob McElhenney watching on a live stream in Los Angeles – was Barratt's twelfth of the season since rejoining the club last autumn.  The former Southend United man has scored a variety of goals this season, from bullet headers to firm close range finishes and penalty kicks – not just party-tricks.  This latest effort was just another taken from the Barratt catalogue.