It's fair to say that Football in Berkshire doesn't spend much time in the company of professional footballers.
But it's also fair to say that after spending some time with record-breaking former Reading FC striker Dave Kitson, he is no ordinary former professional footballer.
Kitson is forthright and articulate on his former club in his new Reading Chronicle column, and now on launching his own Academy project in Reading you really feel he is dedicating himself to giving something back to the game and the community that took him to the Premier League.
If that wasn't enough, Kitson is also chairman at his former non-league club Arlesey Town, giving something back to the club that gave him a platform into the Football League with Cambridge United.
We all know how long it can take to get from one side to the other at times don't we? Caversham to Tilehurst is not the easy trip it should be
The striker has ambitions for The Dave Kitson Academy, but is taking a different approach on launch, moving the coaching to where people want it.
He said: "The Academy at the moment is moveable. We are talking to the Council about potential locations but Reading is a big big town, kids have school and travel isn't always feasible.
"We all know how long it can take to get from one side to the other at times don't we? Caversham to Tilehurst is not the easy trip it should be."
"At the moment, we're looking for people to sign up, we'll group people together and bring the Academy experience to them.
"We'd love to get to a point where we're shuttling people to us, but for the moment that's the goal to achieve."
Kitson is keen to stress a belief that top level coaching could and should be accessible to anyone that wants it: "Reading has a vast demographic, you can go from unbelievable wealth to the complete opposite end of the scale in a few streets. I've seen it happen so often, kids in their early 20s who are in an academy but have had to stop because they can't get there.
"I find that unbelievably sad and I want to reset that mindset.
"There's the other side as well where players simply become interested in other things. We want to nurture and place those people in the right places in the game.
"We could and we should rectify that. I don't see why anyone who wants it, should miss out on the opportunity of elite coaching."
Despite significant investment in coaching from the FA and private enterprise, Kitson says: "We are still missing the most fundamental aspect of deploying what we have learned at the feet of the next generation of talent: Academies that are available to everybody. 
"There are only 28 Category One academies in the UK. These are academies that coach from under 9 to under 23-year-olds. And so, learning the latest coaching techniques and having an outlet to teach children the latest trends is still, unfortunately, the privilege of a very select number of children, exclusively at professional clubs."
—
A subject that the striker is keen to talk about is the increasing number of opportunities in the game outside of being a professional footballer. Across technology, analytics and scouting, these roles are being taken by a new generation of impressive young people 
He said: "I was at my lad's game recently and a scout was there I recognised – puffer jacket with his initials on. He looked up and said "The two and the four". He didn't stay for the second half.
"I've watched that team all season and all he's done is identify the two oldest kids, the biggest kids in the team. You wouldn't come to the same conclusion if you'd watched the team all season.
"That's not where the game is anymore, it's analytics, it's technology, it's innovation. Spurs are doing it, Brentford are doing it. All that money at Manchester United and they are being hammered for not being more Brighton."
A big thread of the 2022/23 season was the story of Wrexham in the National League, but Kitson believes it is their nearest challengers who history will treat kindly: "If you look at a story from last season, Wrexham and Notts County. Both doing it very differently – but if you took away Wrexham's owners what would happen? I think when we look back on this period it'll be County who'll have come out on top in the end."
—
For Dave Kitson, the path to the top tier of English football wasn't an obvious one.
While trials at professional sides came and went, it was in non-league football that he learned his trade, playing for the likes of Hitchin Town and Arlesey.
Kitson said: "I wasn't in an Academy. I messed up a couple of trials, one at Millwall. If I had been at a Premier League Academy back then you'd never have seen me.
"I wasn't ready then at 20, 21. I had to try harder to get to where I ended up."
He adds: "Thankfully in this country, we are finally coming around to the idea that not everyone is ready at the same time."
You feel that the path Kitson followed is one he believes requires a specific mindset. That the game is losing players hoovered up by the top tier academies who could otherwise have successful – not to mention lucrative careers in football.
"We're seeing kids dropped from Premier League and Championship Academies thinking they are failures. They think that dropping down and playing for Cambridge United, Wycombe Wanderers, Oxford United is a failure," he says.
—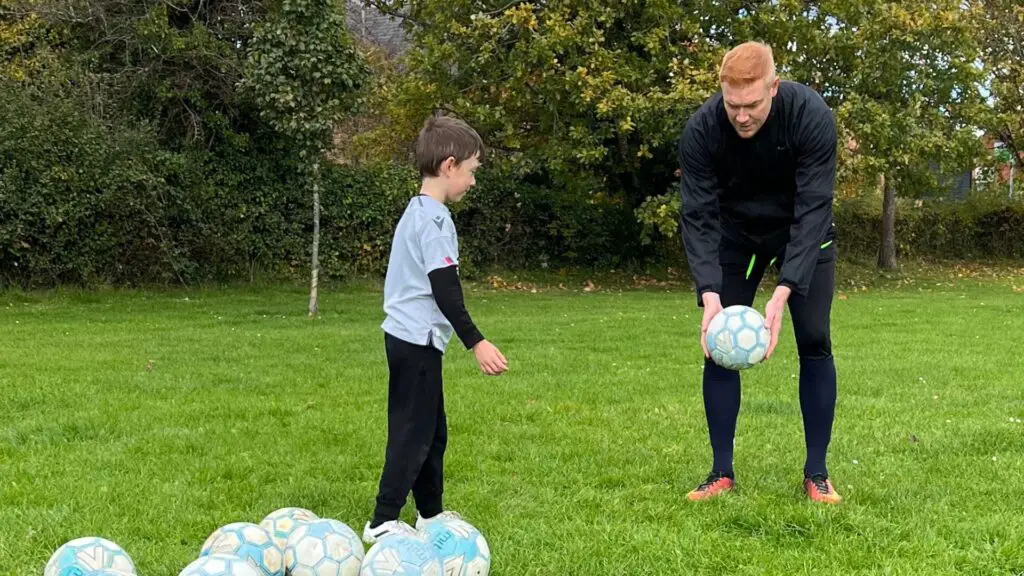 The Dave Kitson Academy is a way of the former Stoke City, Portsmouth and Oxford United striker giving opportunities that simply weren't available to him as a young player.
Kitson remains passionate about the game and in recent weeks the striker has put himself metaphorically in positions he'd have been proud to find in front of goal.
Whether it's using his experience and knowhow to coach a new generation of kids, his knowledge and contacts in and around Reading Football Club or leading the recent Sell Before We Dai march that made national headlines.
And it doesn't look like he's going to slow down: "I am doing a PFA course at the moment around getting more ex-Pros into positions in football. If I can namedrop [Ilkay] Gundogan (laughs) is on it, Ben Davies is on it. It's great but we should have been doing this years ago.
"At the Academy we want to do the education bit, whether that's international or local students. We will put you in the right places for your development going forward. We'll manage your career.
"We can't all be a pro footballer. You can still earn a decent wage in the game all the way down the pyramid with another trade to fall back on.
"Simply, not making it as a footballer doesn't mean you can't have an incredible career in football."
If you'd like to find out more about The Dave Kitson Academy, head to the website davekitsonacademy.com where you can find more information and register your interest in a coaching session with a Reading legend.