Following Binfield's historic win in the semi-final of the FA Vase, Football in Berkshire's Rob Davies caught up with the man who converted the penalty that sent the Moles to Wembley, Jack Broome, to ask him what it was like taking such a pressure kick.
With the scores tied at 3-3 in the shootout, after a 1-1 draw in normal time, Chris Grace saves the fifth penalty from US Portsmouth, meaning Jack Broome has the chance to send Binfield to the FA Vase final at Wembley. As he starts his walk from the halfway line, the nervous energy around the ground is palpable, Binfield's Chairman and Secretary are hiding in the changing room because it has all got too much for them, but Broome insists he was not phased.

"A lot of people have said to me: 'You must have been really nervous walking up?' Honest to God I actually wasn't. The most nervous part for me was when I put the ball on the penalty spot and then walked backwards. I had to take the biggest, deepest breath I'd ever taken just to calm my nerves."

The Moles had come through three previous shoot outs in this FA Vase run but this was the first time Broome had found himself staring down an opposition keeper from 12 yards.
POSTER: How to get your Binfield FC Vase final poster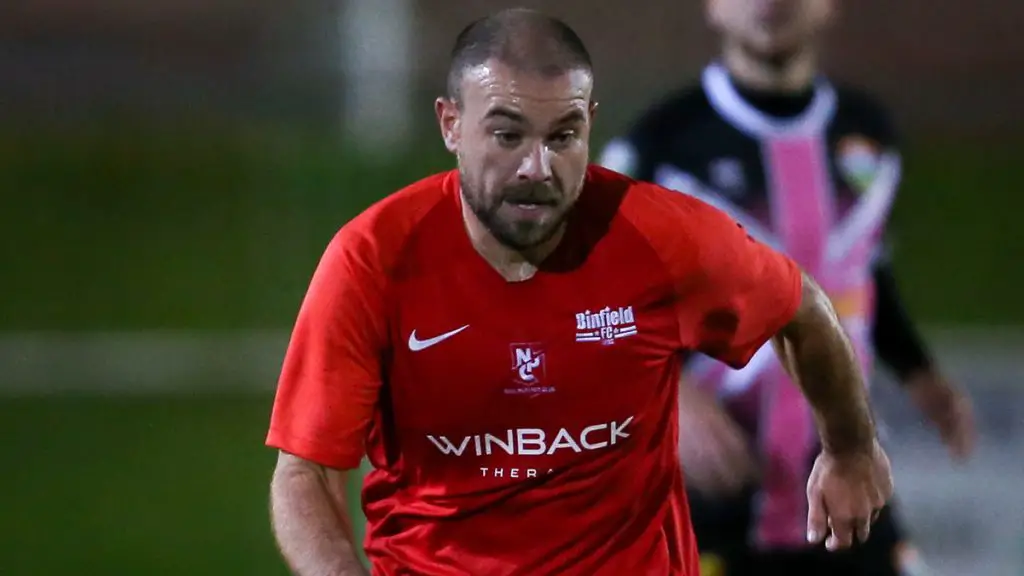 "It's funny, in the last couple rounds before that we had the same penalty takers step up. This time around obviously Shorty [midfielder George Short] wasn't playing, being suspended. So four boys very quickly put their hands up, and it felt like forever before the 5th person. At the time nobody put their hand up and then, looking around, I said 'Right OK I'll take it.' I'm fairly confident with penalties but if somebody really fancied it they go straight away. So I put my hand up after what felt like about two or three minutes, and said I'll take the fifth one.

"You just never know with penalty shoot outs. In a nice way you are hoping that it gets done and dusted as early as possible but one of the things I think I did quite well is trying to switch off to what was going on around. I was trying to switch off because that's the thing, you just got to concentrate on what you can do and affect the game and especially in a penalty shootout for sure."

Broome hit his penalty into the bottom left corner, the same way US Portsmouth keeper Tom Price dives to give a tension-filled game one more heart in mouth moment, but again Broome says he wasn't worried:

"I didn't even think about where I was going to put it, I just told myself 'Make good contact and the rest should take shape.' And luckily it did.

"It's weird, in the moment I kind of thought it was just beating [Price], but I have looked back on some of the videos and, trust me, when I look at the videos I get goosebumps every time I watch it. There's two angles, one which is at the front and one at the back; in the one from the front it looks like I kind of stutter because I'm not sure if he got there or not but, the one from behind it looks like it just beats him.

"I've had a couple of people have said to me, oh you know it's going off the post and things like that, but I just say I don't really care as long as it has gone in that is all that matters. Crazy."

The penalty hitting the back of the net sparked wild scenes of celebration from the Binfield team and travelling support. Broome wheeled away spinning his shirt over his head before his teammates mobbed him.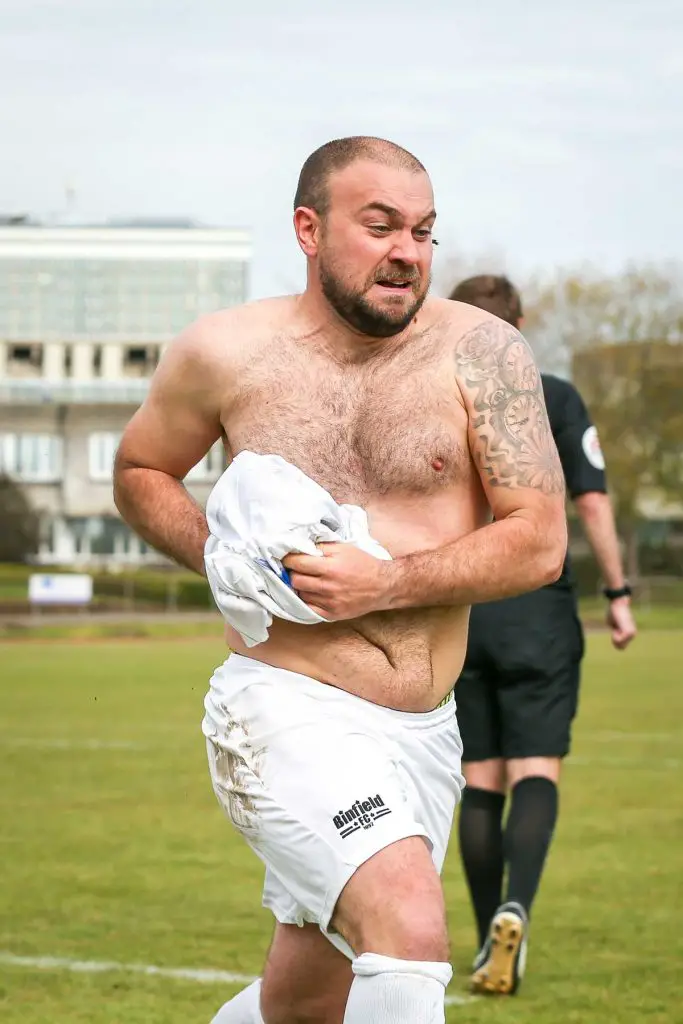 "I've had a few jokes from some of the parents of the Under 7s [the age group that Broome coaches on Monday nights] They said to me 'Give us your celebration again', 'Get your top off' and everything like that, and some of the lads are telling me I looked like a young Giggsy running down the line with the hairy chest. In the emotions of it all, I just ran and I've just heard everybody scream and then a big pile-up with me on the bottom. That's what it's all about it you know, those sorts of things are just amazing. I couldn't be happier for the club and especially for the bunch of players. This group is really, really special and I played with some really good players in the past, but this group is something special. Very special."
Every step of the way
The moment was captured by Neil Graham in a shot that made the front of the Non-League Paper although the man who scored the winning penalty can hardly be made out: "You can see my body on the bottom and maybe a patch of my bald head.
"Neil's been with us every step of the way photographing the lads. He's been brilliant. From a player's perspective those are memories that you cherish forever. We're quite lucky in the FA Vase that you get people recording the games, but when you have pictures, that are great pictures from Neil, his photography is fantastic, those memories stay with you forever. Hopefully we'll have some more of people running away down the touchline after scoring a goal, that would be great."
Broome started the match on the bench and watched on as US Portsmouth took the lead in the first half before he was introduced early in the second half, but while he was keen to get onto the pitch and influence proceedings, he was also quick to recognise the group effort and attitude that has served Binfield so well this season.
"I mean everybody wants to play in big games and wants to be involved and luckily enough I have throughout the whole time since I've started here. Speaking to Clurgy and Withs [joint managers Jamie McClurg and Carl Withers] before the game I said to them as managers they have got to make decisions, and to me it was if I can come on and affect the game in whatever which way I can then great. So coming on Saturday, whatever part I played in it, whether or not I ended up taking the penalty, in the actual game you just have to do what you can for the team to make sure that we get through. It's not about individuals. That's one thing that we've stood strong on for the whole year as a group, is that it is real group effort. But yeah, the way it fell and the way that things have happened it is great. But for me personally, and I said this straight after the penalty shootout, the main man for the penalty shootout was Gracey [goalkeeper Chris Grace]. For him to save 2 penalties and, yes okay I scored the winning penalty but still, we don't get there at all if Gracey doesn't save those two.
"A lot of people that I spoke to that watched the game said they felt like it was just one of those games or one of those days where we just weren't going to get it, but honestly I've had this belief since we came back after the last lockdown and we started again, I really had this belief that there's just something that we have in this group that we were just going to do it and even though our backs are up against the walls, I've felt like we were always going to nick something. US Portsmouth were a very fit side and towards the end, in the last 20 minutes of the game, you can tell that they were really starting to hold on, trying to drown the game out really. Ferdy [Liam Ferdinand] picked up with a great goal but any one of the players I think could have could have got on the score sheet, any of the frontline especially, and we missed some chances. Honestly, I've so much belief for this group it is this unbelievable."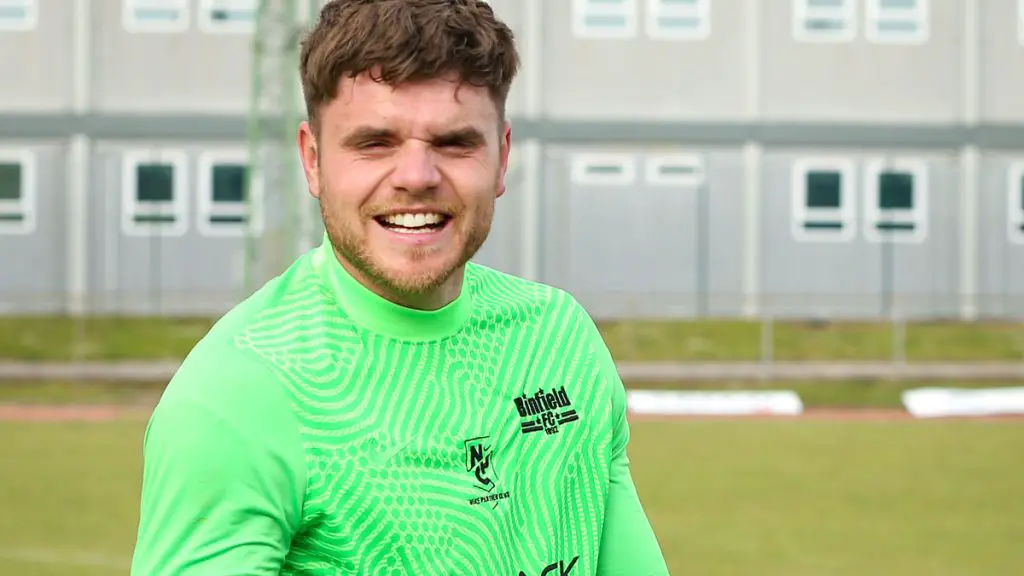 The scale of what happened at the weekend is only just setting in, but Broome expects McClurg and Withers to make sure the team still has their feet on the ground for the last game of the season.
"It's surreal to be honest. It didn't sink in at all on Sunday and then on Monday I just had messages and people kind of reached out and stuff like that, which has just been mad, and then today is kind of been a bit like 'Wow!' It's just kind of hit home now what is happening. I took the under 7s last night for training and yeah just mad, it's just mad. But back to reality quite quickly because we got training and stuff tonight.
"I mean the thing about the group, and Clurgy and Withs especially, it's very much get the job done on Saturday, enjoy it Saturday, enjoy it Sunday. Monday then is it kind of back to work and then Tuesday is back training for the next game. It's always been the kind of motto really of the whole season, so nothing's really going to change I think. That's the great thing about us actually, is that speaking to Clurgy and Withs and all the other lads you know being part of this group has been just amazing because the intensity that we train with is exactly what we play like on a match day. So yes it won't be anything different, will still be kicking each other tonight and training as we do normally."
So as Wembley comes into view on the horizon, will the team be doing anything special during the next two weeks before the final?
"The build-up is something to really look forward to. But for us, we want to try and stay as focused as possible. It's a winning thing in itself to play at Wembley and getting that opportunity, but I know the group of lads that we have got, and Clurgy and Withs, they will not want to go there and not win it. We have no players there who will just expect to have a day out at Wembley, we firmly believe we have got a good opportunity to lift the trophy. We've got a few things planned but I think with covid restrictions and things like that, things are a little bit up in the air. There is talk of training at some grounds and things like that which would be lovely to do, but our feet are firmly on the ground and we just want to finish the job now. We've done so well to get to this stage and yes will enjoy all the things that come with it but, at the end of the day, you want to win it. If you get there you have to go and win it so hopefully, we can do that come the 22nd."
The only slight disappointment is that Covid is restricting the capacity for Finals Day at Wembley to 10,000 with Binfield being allocated 1500 tickets.
"With Covid it's such a shame. I felt sorry two weeks ago for Hebburn and Consett [in the delayed 2020 FA Vase Final] because they couldn't have any fans in the stadium so the fact that we've got 1500 tickets that have been allocated to us is good. Some of the boys are joking saying you seem to have a lot more friends now and people that want to come and join and come watch the game and it's great. My close friends and family, I've got two young boys, and you know I can't wait for them to be there at Wembley and see us there. it's amazing it really is and it's going to be great.
"Little old Binfield get to Wembley, it's amazing it really is, and we are so grateful for all the support from all of the local clubs and papers and things like that, and long may it continue until we get to the 22nd. With the support and everyone behind us I firmly believe that this is the year to do it, there is an opportunity there for sure. Let's go and finish it, let's finish the job now. I think we're ready for it."
And if the Final on the 22nd goes to a penalty shoot out will he be putting his name forward to take the 5th kick?

"Hopefully we win in 90 minutes, but if we get to that point in time and there's an opportunity for me to take one absolutely. You know that you only get these chances potentially once in a lifetime and yeah, I'm going to do what I can to make sure that we can lift the trophy at the end of it for sure.