Long-serving midfield maestro Alex Dover has seen it all when it comes to Maidenhead United FC Women so the captain was philosophical after the disappointing FAWNL Plate exit a fortnight ago. 
The Magpies were two up against Stevenage thanks to a brace from Steph Nelson after Ellie Parker had saved a penalty.  However the team came unstuck in the final fifteen minutes, conceding three goals and losing Parker to a red card to crash out of the competition. 
Dover pulled no punches when she reflected afterwards: "We allowed the opposition to come onto to us too much in the second half and dropped off far too deep which in turn piled more pressure on us and that was when mistakes crept in and it is fair to say our emotions got the better of us."    
Tough-tackling and tenacious Dover took it all in her stride however, just as she has been doing in Maidenhead United colours for over a decade: "I started playing when I joined the Maidenhead Boy and Girls team when I was 14! I wanted to join a team as I've always loved football but struggled with confidence so one of my friends invited me along and I've never looked back since." 
Dover has been there since the establishment of Maidenhead United Women FC and has experienced the highs – Southern Regional Women's League Division 1 and Premier Division titles –and the lows – going without a league win until March last season, County Cup final defeat.  She looks back proudly on these achievements, as well she might: "The high points I would say are the season we went unbeaten apart from one game which got us promoted into National League Division 1 South West and I would also say being given the opportunity to play at Stadium:MK.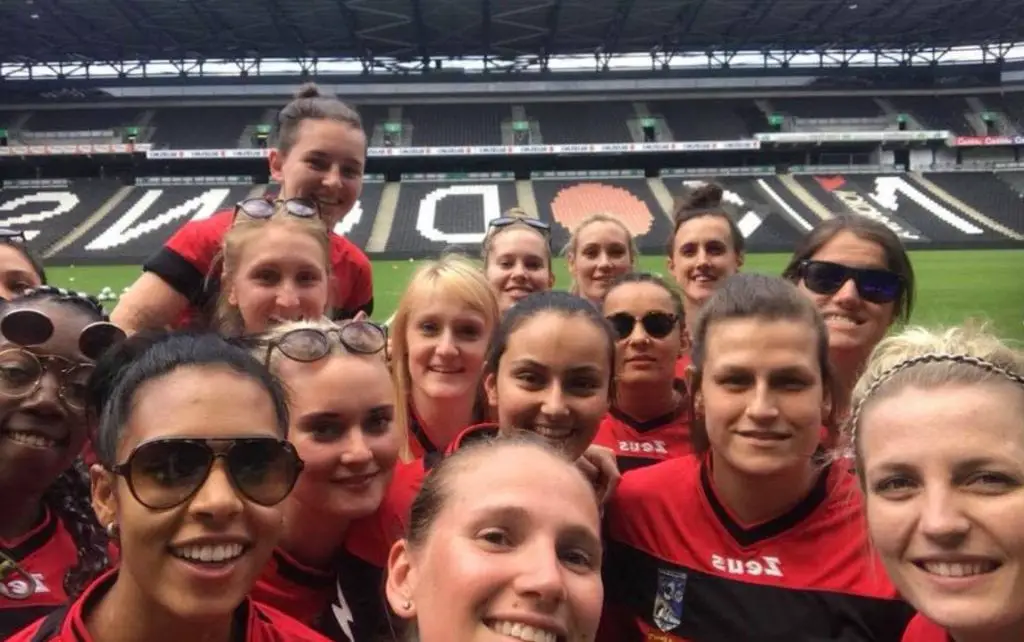 Being able to progress from the Girls team all the way through to playing for the Women's first team has been a great achievement and something I am proud of".  And looking back on her long association with a team which has gone from strength to strength, Dover picks out two stand-out stalwarts who have been there since the start along with Alex herself: "It's hard to pick certain key players out as they all brought something to the team but I would say Amy Saunders and Tina Brett as we have been part of Maidenhead Women since we formed."
Maidonian Alex currently has the privilege of leading her home town team: "It is a great honour and I am loving every minute of it.  I feel I have managed to step up to the Captain role well and it has also brought out more confidence in myself." 
That confidence has allowed an intelligent footballer such as Alex to shine albeit she is acutely aware of her weaknesses as well as her obvious strengths: "I would say I am strong at set pieces and I am able to pass the ball quickly, efficiently and able to play the right pass at the right time.   A weakness of mine would be if I get frustrated with myself in the game my head can go down which will affect how I play.  I am working hard on this and I believe I am improving in this area."  The set piece prowess has already been demonstrated with a long range free-kick goal against Bowers & Pitsea in the Women's FA Cup and a coolly taken spot-kick against Woodley United in the County Cup.
This season the management have a brought in a level of professionalism that perhaps we have never had before and every player knows their role.

Alex Dover
Despite a couple of disappointing results in recent weeks, Dover's team are evidently in a better place than they were last season and have managed as many FAWNL Division 1 South West wins this season as in the entirety of the last campaign: "I believe that the management that has come in this season has really helped us and changed how we play. Last season we had no structure, this season the management have a brought in a level of professionalism that perhaps we have never had before and every player knows their role.  If you don't work hard enough you won't start so now everyone is fighting for their positions which is great to see and you can really start to see what the management want out of us by the results we are starting to get and we all feel it is only the beginning." 
An upbeat message from the skipper, whose targets are unequivocal and ambitious: "We want to finish as high as possible in the league as we can and have a good run in the Berks & Bucks Cup.  However we feel this season is only preparing us for next when we really want to push on and challenge for the league. 
More Maidenhead United Women interviews:
Whether Dover's team-mates will be celebrating at the end of the season remains to be seen but there is a fair chance Alex will be cheering some success in May as her beloved Liverpool seem to be running away with the Premier League!  "I'm Liverpool through and through.  My grandparents come from Liverpool so naturally I've supported them my whole life. And In terms of players Dover looks up to, it is a player formerly of The Reds Women's team: I really like Lucy Bronze.  She is an amazing footballer and her work rate is outstanding. I just love her passion and attitude towards the game and I believe a lot of people would feel the same." 
Passion and a good attitude the game – natural leader Dover certainly has those qualities in common with her idol and remains a key-component in the plans that managers Marsh and Vaughan have for Maidenhead United Women FC.