We've transcribed a bit more of the brilliant interview our man Mark Pugh conducted with Bracknell Town boss Mark Tallentire after the Robins 2-0 win over Thame United at Bottom Meadow.
Tallentire was full of praise for the club and chairman Kayne Steinborn-Busse's decision to reward fans with free admission to the game – and again on Saturday with the visit of Thatcham Town, and said he and his side couldn't wait to get to work on the new pitch.
Tallentire said about the reopening: "It's worked out well that we've got Binfield on the opening day, it's a game that attracts a big crowd on a normal day.
"There has been so much interest already, I have people constantly asking me when the first game will be."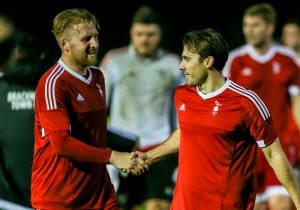 'We all can't wait to get to work on it!'
Talking about the clubs potential success this season, Tallentire reflected on the experiences at Binfield where he went close to delivering a Hellenic Premier League title for the Moles on several occasions and said he believed the Robins were a sleeping giant within the town.
"This club has been in the doldrums for a long time now, it's actually comforting to know people are starting to take notice of us and I told the lads at half time that a sleeping giant has awoken.
"We are a sleeping giant in the town and we are about to wake up.
"We have a fantastic squad of players and I've signed the players I know will be comfortable on that surface [at Larges Lane].
"We all can't wait to get to work on it!"
Listen to the full interview with Mark here:
[soundcloud url="https://api.soundcloud.com/tracks/293287729″ params="color=ff5500&auto_play=false&hide_related=false&show_comments=true&show_user=true&show_reposts=false" width="100%" height="166″ iframe="true" /]
See all the latest Bracknell Town news on our dedicated page here or sign up for our new BTFC twitter feed and email newsletters.